News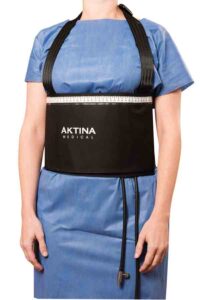 As new radiation therapy techniques and treatment procedures are developed and implemented, medical professionals are turning to new assistive positioning devices to help ensure precise targeting of a tumor's location. A leader in patient positioning and immobilization solutions for radiation therapy, Aktina Medical has introduced a newly enhanced Respiratory Compression Belt designed to help ensure greater accuracy and patient comfort.
"Since its introduction in 2009, our Respiratory Compression Belt has been well integrated into the clinical process at oncology facilities across the country," said Nicholas G. Zacharopulos, COO, Aktina Medical. "With enhancements such as a remote access kit allowing pressure to be monitored and adjusted from the treatment console area, our latest Compression Belt becomes an even more valuable tool for cancer treatment."
Pressure can be applied to Aktina Medical's Respiratory Belt to restrict movement resulting from the patient's respiratory cycle. Ideal for abdominal and lung treatments, the Respiratory Belt applies 360-degree pressure evenly around the entire periphery of the patient; allows for the application of user defined pressure; and is adjustable to allow for different size patients.
Unique to Aktina Medical's Respiratory Belt is a patented remote access kit, which allows therapists to monitor and adjust belt pressure from outside the treatment vault as well as from inside. This helps patient throughput move smoothly, increasing overall efficiency at busy clinics – while also being a cost effective way to provide abdominal compression.
Safety Interlocks Ensure Correct Cone Size at Time of Treatment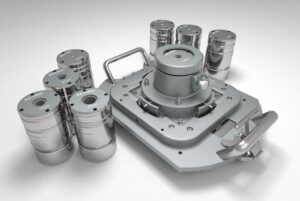 Aktina Medical is proud to announce a collaboration with Philips Medical Systems and Elekta Instruments for SRS interlocking at the 2017 American Association of Physicists in Medicine (AAPM) conference. Aktina's SRS Cone Adapter and Elekta's LINAC Radiotherapy system are now integrated and automated for use within the Philips Pinnacle3 Treatment Planning System.
"Pinnacle TPS will now be capable of connecting directly to Elekta's LINAC system with the full integration of Aktina's Interlocked SRS cones. This functionality means that all safety interlocks will be automatically transferred along with the treatment plan in DICOM format," said Nicholas G. Zacharopoulos, COO, Aktina Medical. "No manual intervention will be required to ensure that the correct cones size and jaw sizes are implemented at the time of treatment."
"With the first truly interlocked cones, Aktina really set a new benchmark for safety in SRS treatments," said Shrikant S. Kubsad, Ph.D., DABR. Director, Medical Physics, Bismarck Cancer Center. "And now that the cone interlock is fully integrated and automated within the Pinnacle planning system, the radiation oncology community will start to receive the full benefits of this partnership."
Aktina's adapter simply snaps onto the Elekta LINAC head without any need for collimator faceplate modifications. Aktina's interchangeable cones are lightweight and extremely accurate, available from 5mm through 40mm field sizes in increments of 1mm. Each cone is uniquely recognized by the Elekta LINAC through the system's bar code scanner, and the cones are electronically interlocked through the Elekta Record and verify system by a series of micro switches embedded in the cone applicator. Together, these elements help automate the confirmation process and help reduce potential errors that could occur at treatment.
"It is a pleasure working with Aktina, as they are very open and eager to implement this very important interlocking integration," said Catherine Large, Physics Support Specialist, Philips Medical Systems. "Our Pinnacle SRS module is much more user friendly and safer with this collaboration."
Philips is scheduled to release the Aktina Cones interlocked functionality in Q1 2018.
| | |
| --- | --- |
| For more than 22 years, the Radiation Oncology department at Olympic Medical Center has been at the forefront of patient care: from the early days of conventional therapy, IMRT and stereotactic radiotherapy, to state-of-the-art techniques such as VMAT and SBRT. Olympic was also the first facility on the west coast north of Stanford to treat with the new high tech Varian TrueBeam accelerator.The Radiation Oncology staff has been dedicated to improving the quality of their treatments. This is highlighted in their most recent efforts to improve Head and Neck treatments beyond what is currently capable with thermoplastic masks.By purchasing the Aktina PinPoint system, Olympic believed that an alternative approach to thermoplastic setups was possible. They committed themselves to learning and investing in new technology, and thus, they pushed the limit as to what is possible regarding Head and Neck setup uncertainty and intra-fractional movement. | |
| | |
In December of 2011, Olympic took delivery of their Aktina PinPoint System to be used for both cranial radiosurgery as well as Head and Neck localization and immobilization.
Their first patient was treated in April of 2012. Their first experience with the Aktina PinPoint system has confirmed their beliefs, that it is possible to reduce setup uncertainty and intra-fractional motion, as well as increase patient compliance.
John Engstrom, BSRT
Chief Radiation Therapist"We've been very pleased with the results of the Aktina PinPoint system so far. I fully expected the cranial set-up to work (which it has), but the Head and Neck system is a game changer. http://www.aktina.com/news/olympic-medical-reports-pinpoint-initial-results-for-head-and-neck-treatments/We get less than 1mm daily variation from the initial set-up, to say nothing of no movement during treatment! It's beyond our expectations."

Michael Shevach, MD
Radiation Oncologist"With the initial results with the Aktina PinPoint system, we would really be very optimistic to move entirely away from thermoplastic masks for Head and Neck cases. PinPoint has proven itself to be more accurate and easier on the patient."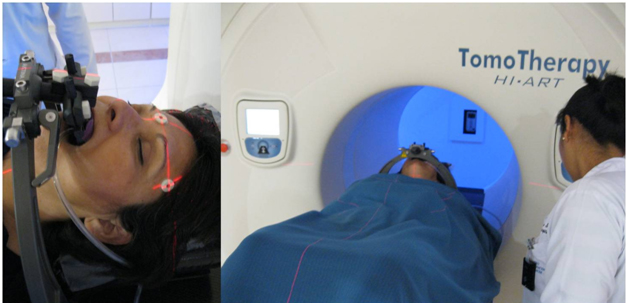 The International Cancer Center (Centro Internacional de Cancer) of the Hospital de Diagnostico, is the first dedicated comprehensive cancer center in El Salvador, it was established in February of 2011, promoting cancer awareness, early detection and advanced cancer treatments. It was the second institution in Latin-America to incorporate Tomotheraphy and the first institution to establish an Image Guided Body Radiosurgery Program (IGBRS).

Dr. Eduardo Lovo is a Neurosurgeon whose main interest are in Neurological Oncology and Radiosurgery, he has introduced multiple innovative techniques to El Salvador and Central America such as: Tractography Image Guided Surgery (IGS), awake craniotomy and cortical mapping for tumors in eloquent cortex, intraoperative ultrasound and most recently, Cranial and Spinal Radiosurgery with Tomotheraphy. He is the current Medical Director of The International Cancer Center of The Hospital de Diagnostico de El Salvador and Coordinator of the Neuro-oncology program of the same Hospital.
The Aktina PinPoint system was incorporated in early march of 2011 as a tool that could potentially immobilize patients to true intracranial radiosurgical standards, exploding the image guidance system capacity of Tomotheraphy (on-board CT), as well as highly conformal radiation distribution. In our hypothesis this combination could bring new and improved characteristics to the more traditional stereotactic radiosurgery schemes, such as: shorter treatment times (<30 minutes), maximum patient comfort (truly painless), elimination of potential "target miss" as this set-up is not dependent on stereotactic coordinates (eliminating erroneous determination or manual execution of coordinates) or unperceived frame slippage that without a 3D Image Guidance (CT) immediately before treatment would not had been detected, and finally it could facilitate fractionated radiosurgical (?5 fractions) treatments that are beneficial for larger lesions and organs at risk (AOR) sparing.
Since then, in a short period of time more than 40 radiosurgical sessions have been given for intracranial pathology. Our current investigative work was designed to determine patient movement during radiosurgical treatments with Aktina Pin-Point system; it basically consisted in doing the obligatory Megavoltage-CT (MVCT) before treatment and a second MVCT at the end of treatment, as well as a final image fusion to determine the amount of movement that had occurred.

Ten patients were included that harbored 12 intracranial tumors and that were treated with 18 radiosurgical sessions, six patients received single fraction radiosurgery and four received fractionated radiosurgery. Our results demonstrated that corrected movement for negative and positive values for X 0.47 mm, Y 0.56 mm, Z 0.37 mm and Roll axis was of 0.36 mm. http://www.aktina.com/news/international-cancer-center-reports-pinpoint-results/Average beam on time was 12.2 minutes, if patient setup and both MVCTs (before and after) were taken into consideration average time of treatment was 31.2 minutes (22.1-42 minutes).

The main advantages we have seen with this treatment set-up are true radiosurgical head immobilization standards in comparison to face-mask where patient movement can be above 1mm.
"The PinPoint system is quite simple to use with a small learning curve, paying attention to details (head mold, no air leaks in the teeth mold, etc) is the "key" for adequate intracranial radiosurgery, paying attention to details is no different than conventional stereotactic radiosurgical procedures, with the main difference that it is non-invasive in nature."
Dr. Eduardo Lovo, MD