Additional Showcased Products Improve Patient Immobilization, Comfort and Outcomes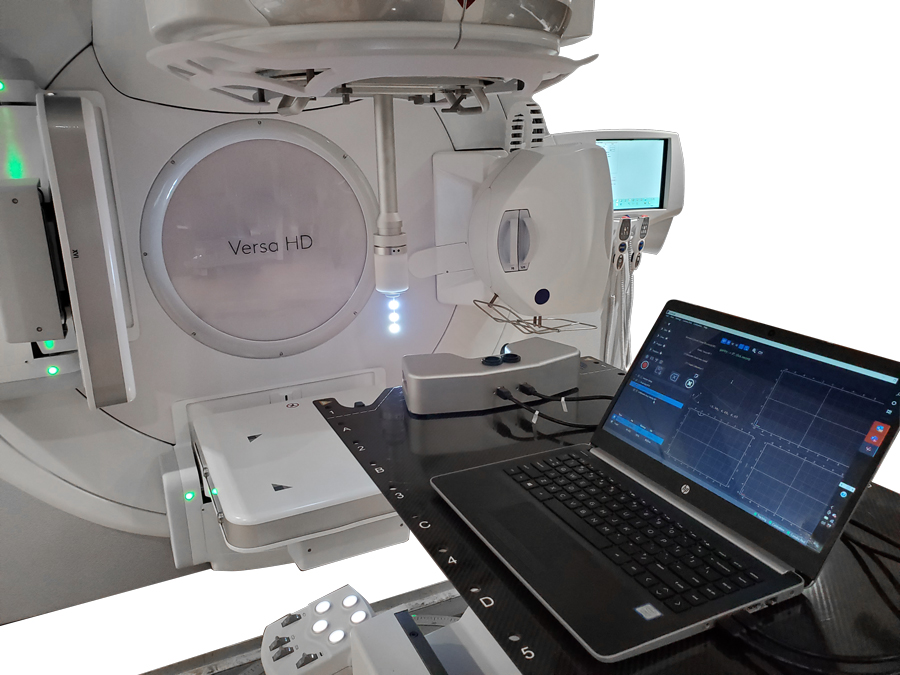 Congers, NY (October 21, 2021) – Aktina Medical, the industry's primary source for radiation oncology needs, is showcasing a revolutionary new solution for determining the precise location of a LINAC isocenter at ASTRO 2021 in booth 2073.
Aptly named isoPoint™, the new solution represents a fundamental and substantial leap forward for isocenter accuracy. Using optical tracking with 1/100mm precision and patented techniques for couch axis alignment, beam alignment and 3D Winston-Lutz analysis and display, the isoPoint™ isocenter location solution eliminates all the guesswork and complexities currently associated with SRS commissioning.
"isoPoint finally delivers the long-overdue relief that the medical physics community has been seeking for isocenter characterization" said Nicholas G. Zacharopoulos, CEO, Aktina Medical. "With isoPoint, a complete understanding of isocenter is now possible: all the previously intertangled moving parts are now separated out for us to see, understand, and accurately adjust with ease and speed. It is very exciting to see such a complete solution to this long-standing problem."
The isoPoint system consists of a camera pod and an optical tracking module that is attached to the LINAC collimator to accurately measure the collimator axes of rotation. An optical tracking module is also used to position a marker at the found isocenter with extreme accuracy. A software package provides a full suite of tools for isocenter management including optimized isocenter computation, live-track couch alignment, beam alignment current computation, and end-to-end beam-to-target error matrix computation.
"We've seen excellent results while working closely with Elekta to incorporate isoPoint within their LINAC install process and are looking forward to its general release so that clinical physicists can also benefit from this amazing technology" added Mr. Zacharopoulos.
Additional products on display from Aktina Medical at ASTRO 2021 include:
positionPRO™ Radiotherapy Patient Immobilization and Set-up System for intracranial, C-spine and head and neck radiotherapy treatments. positionPRO is designed to provide better outcomes by improving patient immobilization and position correction while providing the highest degree of comfort possible.
Respiratory Compression Belt is designed to apply pressure to restrict movement due to the patient's respiratory cycle. Ideal for liver or lung treatments, the belt allows for the application of user defined pressure and is adjustable for patients with waist sizes ranging from 42" to 52".
SenoView Prone Breast is designed with comfort in mind, allowing patients to better relax and not feel unbalanced or stressed. Built on a robust carbon fiber platform, the SenoView can handle extreme workloads while remaining light weight. A module design coupled with a moveable breast treatment window make for easy, accurate and reproduceable setups.
SBRT Memorial Cradle utilizes side pressure on the patient to achieve superior immobilization and patient comfort. The universal system easily adapts to any treatment or CT couch top and allows for excellent flexibility in SBRT positioning with direct index to table crossbar and paddle sets.
Small Field Circular Collimators are safe, lightweight, simple to use, and extremely accurate. The adapter simply snaps onto the Elekta LINAC head without the need for modifications to the collimator face plate. Inter-changeable cones are provided over a range of 5 through 40mm field sizes (increments of 1mm). Each cone is uniquely recognized by the Elekta LINAC by a simple coding system, reducing potential errors that could occur at treatment. The system has been jointly validated by Aktina and Elekta and is compatible with Elekta's bar code scanner system for jaw size verification.
For more information on Aktina Medical's extensive line of products visit Aktina.com, call toll free at 888-433-3380 or email info@aktina.com.