Radiology physicians and technicians face the constant challenge of balancing treatment effectiveness with patient comfort. Of course, many medical procedures from simple injections to surgery involve some inherent patient discomfort, but radiotherapy has unique characteristics that set it apart from other treatment regimens. For example, patients are normally completely conscious during radiology treatments yet must remain perfectly still. In another example, modern treatments such as SBRT and IMRT depend on high-accuracy positioning of the treatment area to prevent damaging surrounding healthy tissues. The combination of these two characteristics creates the challenge of immobilizing patient movement in a precise position, while they are fully conscious, for the duration of the setup and treatment – a time period that can typically last from 15 to 30 minutes, or even longer. In the past, invasive frames attached to the patient's skull were used to provide localization and immobilization for cranial radiotherapy, an inconvenient, costly, and typically painful process.
Radiation treatment providers knew there had to be a better way. The ideal answer to this challenge would be to immobilize the treatment area while also providing for the maximum possible patient comfort. This is because physical discomfort such as pressure points will cause the patient to fidget, or try to move, to gain relief even when they know that they are supposed to remain still. Patients may not even be aware of these attempts at movement – such human movements are often triggered by unconscious drivers.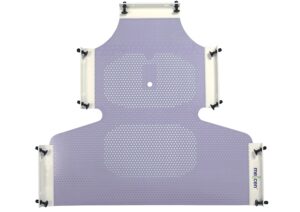 Treatment of tumors in the head and neck area are particularly sensitive to positioning because of the close proximity of other essential organs and tissues. Healthy tissues in the brain, eyes, spine, and salivary glands are only a few of the areas that need to be protected during treatments, and achieving isolation of these areas depends on both precise positioning and prevention of movement.
Fortunately, Aktina offers two distinct families of head immobilization products that can be used for treatments in the head and neck area that offer both high accuracy positioning and patient comfort. The first is based on shape-conforming thermoplastics, and the second is based on patented vacuum fixation. Both types provide positioning without requiring any action by the patient – the patient can relax as best possible given the situation.
Thermoplastics provide cost-effective, easy-to-use head immobilization systems with good accuracy. They are flexible enough to use with nearly every patient, both face-up and face-down. And, they can be used for head-only immobilization, primarily for cranial treatments or for head-and-shoulder immobilization, also ideal for neck treatments. The only difference between these applications is the size of the thermoplastic mesh and the associated frame and clamping system. Aktina offers a full range of both head masks and head and shoulder masks to support specific needs, including models with frames to fit many popular clamping systems and models with partially open faces to further increase patient comfort if the treatment regimen allows.
The second family of head immobilization products is based on a patented fixation method called PinPoint from Aktina that uses vacuum technology to match a fitted plate to the patient's upper palate. This method maintains an open, unrestricted view for the patient, which can be better for patients that have anxiety about being confined by a mask. And, the PinPoint system enables sub-millimeter accuracy – the most accurate patient location and fixation without the need for invasive frames. The PinPoint approach can also be used for extracranial treatments and with higher accuracy than thermoplastic masks. To provide support from below the skull, several options are available, including thermoplastic support hammocks, standard cushions, and customizable foam cushions. Because these are not used for localization or immobilization, they can be selected based on preference and comfort.
Aktina is proud to provide the latest, most advanced offerings for radiotherapy cranial and extracranial localization and immobilization. Today's solutions provide greater positioning accuracy than ever before, while also increasing patient comfort. Increased comfort translates into increased patient confidence and cooperation, minimizing any added trauma associated with treatment and creating a win-win situation for treatment providers, patients, and better outcomes.