The discussion of radiosurgery is unsettling for most people outside of the medical field, as the circumstances surrounding this procedure are typically not good. Imagine the additional stress associated with any discussion of immobilization, and the serious consequences that can result if unintentional movement occurs during radiosurgery treatment. Fortunately, there have been advancements in abdominal, body and cranial radiosurgery immobilization techniques that are non-invasive, help ensure treatment accuracy, and provide a higher degree of patient comfort.
The following is a summary of three innovative immobilization solutions available today that deliver the perfect combination of precision and patient comfort:
Abdominal radiotherapy immobilization greatly relies on the Elekta Active Breathing Coordinator™ (or "ABC") for a repeatable patient breath hold with a consistent volume every time. This solution allows operators to collect images during a breath hold, and irradiate during an identical breath hold, removing the effects of motion for more accurate treatment. A key to the successful use of the ABC system is increased patient comfort and confidence, which is achieved via proper mouthpiece fit.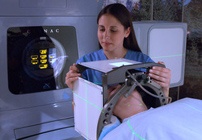 Aktina Medical recently updated the design of its ABC mouthpieces to provide even greater patient comfort and flexibility. The materials and design of the mouthpiece provide a comfortable seal that minimizes patient effort and stress, making the process easier for both the patient and the technician. This combination of comfort and flexibility built into Aktina ABC mouthpieces conveys high quality and instills confidence in patients, minimizing any added trauma associated with radiotherapy. And because the comfortable mouthpiece also forms a reliable seal, the accuracy of the breathing volume measurement is improved. Accurate volume measurement also improves correlation between the imaging and treatment positions, which in turn improves overall treatment accuracy.
Stereotactic Body Radiation Therapy (SBRT) immobilization solutions improve treatment accuracy and patient comfort, while also reducing overall costs. Traditionally SBRT required technicians to employ restrictive components to immobilize patients. Aside from causing patient discomfort and added anxiety, these immobilization components are typically quite bulky making them difficult to manipulate, take longer to set-up, and require substantial storage space.
Aktina Medical took a unique approach to SBRT immobilization with the introduction of its Memorial Cradle 2 Lateral Support System. Developed in conjunction with Memorial Sloan Kettering Cancer Center, the Memorial Cradle 2 features a unique modular design that increases clinicians' flexibility and streamlines workflow processes, while causing less stress to patients undergoing treatment. The system's lateral support paddles mount directly to the treatment couch eliminating the need to mount and adjust additional accessories or hardware. This unique method for patient immobilization provides excellent flexibility in SBRT positioning with a direct index to table crossbar and paddle sets. The Memorial Cradle 2 Lateral Support System provides numerous benefits including: active patient support by applying lateral side pressure to increase treatment setup accuracy and reproducibility; modularity of design that improves cost-effectiveness with fewer components that require less storage space; the elimination of bulky overlays to minimize attenuation and increase treatment options and flexibility; and universal compatibility with virtually any treatment or CT couch top.
Cranial radiosurgery immobilization has been greatly enhanced with the application of new vacuum fixation technology employed in solutions such as Aktina PinPoint. A unique frameless localization and fixation system, Aktina PinPoint's non-invasive approach provides patient-friendly immobilization with sub-millimeter positioning accuracy. PinPoint's non-invasive approach reduces stress on the patient and makes procedures easier for the entire radiation oncology department. With PinPoint, the patient does not have to be simulated, planned and treated on the same day, allowing more flexibility for single-fraction and multi-fraction SRS. With two large treatment and imaging areas, PinPoint is fully IGRT compatible, providing the required flexibility for today's demanding treatment modalities.
At Aktina Medical, we continually seek input from technicians in the field to see how we can further improve our current immobilization solutions, and develop new and more efficient solutions to improve overall patient treatment, comfort, and recovery.