Safety Interlocks Ensure Correct Cone Size at Time of Treatment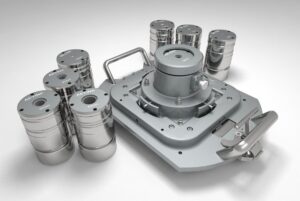 Aktina Medical is proud to announce a collaboration with Philips Medical Systems and Elekta Instruments for SRS interlocking at the 2017 American Association of Physicists in Medicine (AAPM) conference. Aktina's SRS Cone Adapter and Elekta's LINAC Radiotherapy system are now integrated and automated for use within the Philips Pinnacle3 Treatment Planning System.
"Pinnacle TPS will now be capable of connecting directly to Elekta's LINAC system with the full integration of Aktina's Interlocked SRS cones. This functionality means that all safety interlocks will be automatically transferred along with the treatment plan in DICOM format," said Nicholas G. Zacharopoulos, COO, Aktina Medical. "No manual intervention will be required to ensure that the correct cones size and jaw sizes are implemented at the time of treatment."
"With the first truly interlocked cones, Aktina really set a new benchmark for safety in SRS treatments," said Shrikant S. Kubsad, Ph.D., DABR. Director, Medical Physics, Bismarck Cancer Center. "And now that the cone interlock is fully integrated and automated within the Pinnacle planning system, the radiation oncology community will start to receive the full benefits of this partnership."
Aktina's adapter simply snaps onto the Elekta LINAC head without any need for collimator faceplate modifications. Aktina's interchangeable cones are lightweight and extremely accurate, available from 5mm through 40mm field sizes in increments of 1mm. Each cone is uniquely recognized by the Elekta LINAC through the system's bar code scanner, and the cones are electronically interlocked through the Elekta Record and verify system by a series of micro switches embedded in the cone applicator. Together, these elements help automate the confirmation process and help reduce potential errors that could occur at treatment.
"It is a pleasure working with Aktina, as they are very open and eager to implement this very important interlocking integration," said Catherine Large, Physics Support Specialist, Philips Medical Systems. "Our Pinnacle SRS module is much more user friendly and safer with this collaboration."
Philips is scheduled to release the Aktina Cones interlocked functionality in Q1 2018.