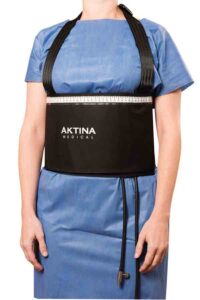 As new radiation therapy techniques and treatment procedures are developed and implemented, medical professionals are turning to new assistive positioning devices to help ensure precise targeting of a tumor's location. A leader in patient positioning and immobilization solutions for radiation therapy, Aktina Medical has introduced a newly enhanced Respiratory Compression Belt designed to help ensure greater accuracy and patient comfort.
"Since its introduction in 2009, our Respiratory Compression Belt has been well integrated into the clinical process at oncology facilities across the country," said Nicholas G. Zacharopulos, COO, Aktina Medical. "With enhancements such as a remote access kit allowing pressure to be monitored and adjusted from the treatment console area, our latest Compression Belt becomes an even more valuable tool for cancer treatment."
Pressure can be applied to Aktina Medical's Respiratory Belt to restrict movement resulting from the patient's respiratory cycle. Ideal for abdominal and lung treatments, the Respiratory Belt applies 360-degree pressure evenly around the entire periphery of the patient; allows for the application of user defined pressure; and is adjustable to allow for different size patients.
Unique to Aktina Medical's Respiratory Belt is a patented remote access kit, which allows therapists to monitor and adjust belt pressure from outside the treatment vault as well as from inside. This helps patient throughput move smoothly, increasing overall efficiency at busy clinics – while also being a cost effective way to provide abdominal compression.