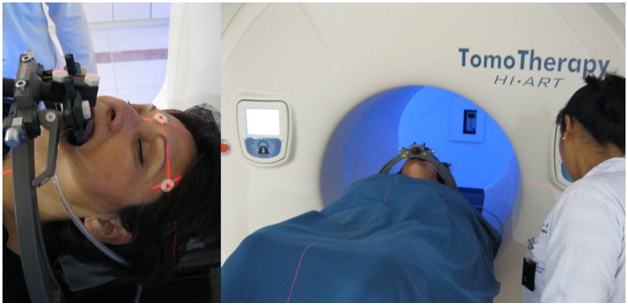 The International Cancer Center (Centro Internacional de Cancer) of the Hospital de Diagnostico, is the first dedicated comprehensive cancer center in El Salvador, it was established in February of 2011, promoting cancer awareness, early detection and advanced cancer treatments. It was the second institution in Latin-America to incorporate Tomotheraphy and the first institution to establish an Image Guided Body Radiosurgery Program (IGBRS).

Dr. Eduardo Lovo is a Neurosurgeon whose main interest are in Neurological Oncology and Radiosurgery, he has introduced multiple innovative techniques to El Salvador and Central America such as: Tractography Image Guided Surgery (IGS), awake craniotomy and cortical mapping for tumors in eloquent cortex, intraoperative ultrasound and most recently, Cranial and Spinal Radiosurgery with Tomotheraphy. He is the current Medical Director of The International Cancer Center of The Hospital de Diagnostico de El Salvador and Coordinator of the Neuro-oncology program of the same Hospital.
The Aktina PinPoint system was incorporated in early march of 2011 as a tool that could potentially immobilize patients to true intracranial radiosurgical standards, exploding the image guidance system capacity of Tomotheraphy (on-board CT), as well as highly conformal radiation distribution. In our hypothesis this combination could bring new and improved characteristics to the more traditional stereotactic radiosurgery schemes, such as: shorter treatment times (<30 minutes), maximum patient comfort (truly painless), elimination of potential "target miss" as this set-up is not dependent on stereotactic coordinates (eliminating erroneous determination or manual execution of coordinates) or unperceived frame slippage that without a 3D Image Guidance (CT) immediately before treatment would not had been detected, and finally it could facilitate fractionated radiosurgical (?5 fractions) treatments that are beneficial for larger lesions and organs at risk (AOR) sparing.
Since then, in a short period of time more than 40 radiosurgical sessions have been given for intracranial pathology. Our current investigative work was designed to determine patient movement during radiosurgical treatments with Aktina Pin-Point system; it basically consisted in doing the obligatory Megavoltage-CT (MVCT) before treatment and a second MVCT at the end of treatment, as well as a final image fusion to determine the amount of movement that had occurred.

Ten patients were included that harbored 12 intracranial tumors and that were treated with 18 radiosurgical sessions, six patients received single fraction radiosurgery and four received fractionated radiosurgery. Our results demonstrated that corrected movement for negative and positive values for X 0.47 mm, Y 0.56 mm, Z 0.37 mm and Roll axis was of 0.36 mm. https://www.aktina.com/news/international-cancer-center-reports-pinpoint-results/Average beam on time was 12.2 minutes, if patient setup and both MVCTs (before and after) were taken into consideration average time of treatment was 31.2 minutes (22.1-42 minutes).

The main advantages we have seen with this treatment set-up are true radiosurgical head immobilization standards in comparison to face-mask where patient movement can be above 1mm.
"The PinPoint system is quite simple to use with a small learning curve, paying attention to details (head mold, no air leaks in the teeth mold, etc) is the "key" for adequate intracranial radiosurgery, paying attention to details is no different than conventional stereotactic radiosurgical procedures, with the main difference that it is non-invasive in nature."
Dr. Eduardo Lovo, MD